Body Treatments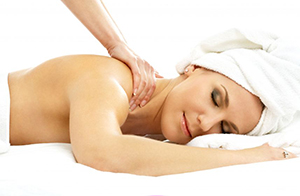 Massage is often used for specific reasons, such as relief from pain, stress reduction, or enhancement of athletic performance. But whether there is a specific goal or not, massage therapy tends to increase the general health and wellbeing of the recipient.
In a massage, a caring, safe touch is an invitation to relax. This, together with pain relief, generally produces a "relaxation response."
The treatments we offer provides our clients with a relaxation response which may decrease the physical effects of stress and reduce the risks associated with stress, such as hypertension, cardiac arrhythmias, anxiety, insomnia, persistent fatigue, sexual dysfunction, digestive disorders, and psychological issues--to name a few.
The physical manipulation in massage has two major physical effects: Increase in blood and lymph circulation Relaxation and normalization of the soft tissue (muscle, connective tissue, tendons, ligaments), which releases nerves and deeper connective tissues
Back, Neck & Shoulder Massage
£34.00
(30 Minutes)
Full Body Massage
£48.00
(60 Minutes)
Well being massage
£50.00
(60 Minutes)
Includes back, neck, face & scalp.
Massage to the Scalp, Neck & Face
£45.00
The facial for your back